Dear Christian friends… friends of Rodrigo Rojas and our many brothers and sisters in Costa Rica … fellow laborers in the work of the Great Commission … relatives … casual acquaintances … total strangers …
During the holidays, I saw lots of offers for Buy Now Pay Later and Buy One Get One Free. Have you ever received such an offer from a Missions Organization? That's exactly what I want to propose to you in this letter.
The Lord willing, Norma and I and 29 other team members leave for San José, Costa Rica, IN FOUR MORE DAYS. All the details are coming together beautifully. All indications are that we are going to have an outstanding week. A week of very hard work, a week of genuine evangelism, a week of great worship and sweet fellowship.
However, with just four days left before we go, we still need some financial help. Back in December I sent out an email and posted a message on this website titled:
I NEED TO RAISE $10,000 IN THE NEXT 30 DAYS!
Today, we still need to raise:
FOUR THOUSAND DOLLARS IN THE NEXT FOUR DAYS!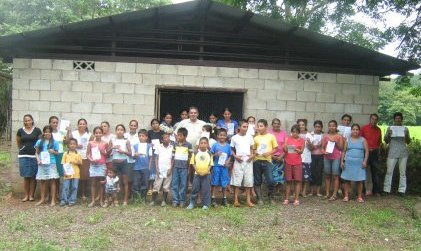 August 2009: Rodrigo Rojas with some of the younger members of a church in the Guancaste province in far north Costa Rica, near Nicaragua.
The good news: We have received so many generous gifts in the last three weeks! Praise the Lord … and thank you so much to each one of you who sent a gift. Norma and I will send you a full report, complete with photos, when we get back from Costa Rica. I promise that your donation will be used for the Great Commission – saving souls, starting and equipping churches, training and equipping pastors.
If you have not been able to send a gift, I understand entirely. These are not the best economic times. The holidays are always a tight squeeze. You can only do what you can do. I sure get that. Nevertheless, I still need to come up with four thousand more dollars in the next four days.
So how about this. Would you be willing to pledge now and give later? Plus, every dollar you pledge now will immediately be doubled by a matching gift from a local church. That's "buy one get one free," right?
Actually, thanks to God's faithfulness and your great generosity, along with several hours of nail-biting midnight-oil budget crunching, we pretty much have all the funds we need for next week's trip. (Norma suggested we could save some money if I would just skip black beans and rice, fried plantains and Costa Rican coffee for the entire week. Sorry, Norma, I don't think so).
With the trip taken care of, the one final item we are raising funds for is a car for Rodrigo Rojas, our senior evangelist in Costa Rica. For two years now, Rodrigo has been relying on borrowed cars and public transportation to carry out his ministry!! Is that any way to get the Lord's work done??
When we are with Rodrigo next week, we want to present him with $10,000 to buy a reliable used car. We already have $2,500 designated for that purpose. Plus, Edmond (Okla.) Christian Church has offered a matching gift to raise the rest. They told me: If I can raise $4,000 before we leave for Costa Rica, they will match it, dollar for dollar, with another $4,000. Raise One Get One. That will give us more than enough to put Rodrigo behind a smooth set of wheels.
May 2009: Rodrigo Rojas with some new converts in Limón province in south Costa Rica.
Do you want to help? Would it be more convenient for you to do so at the end of the month or the middle of next month? If so, would you send an email NOW, pledging a gift sometime during the next 30 days? I have talked to Steve Logan who heads up ECC's missions committee. He has agreed that they will acknowledge such pledges and match them immediately dollar for dollar – even before we actually receive your gift! All we need is your email to activiate the matching gift!
To those of you who already sent a gift, I want to say again: THANK YOU! You dear relatives, friends, acquaintances and strangers have been very generous! During the past three weeks we have received about $4,500 in donations. Thank you!!
Plus, I have gone through our budget like a kid scrounging around in the sofa for lost change. I have identified $1,500 of our expenses that can be paid after we get back … which closes the rest of the gap on the $6,000 we needed to make this trip work out.
Yeah, that's right –- I'm going to have to send out another fund-raiser in early February to raise the funds for our remaining costs. Mainly, I will just send you photos from our trip:
• Photos of moms and their kids being treated at the health clinics by our team of six nurses.
• Photos of the new classroom building our team is erecting in San José for our Bible Institute.
• Photos of Christians from several Costa Rican churches praising and worshiping at our convention – something they look forward to all year long.
• Photos of dozens of young pastors and their wives being trained in our Leaders Seminar.
• Photos of people accepting the Lord and being baptized into Him.
I am trusting that when I send out those photos, raising the additional funds will not be a problem.
So, during these last four days we are focusing on raising the $4,000 for Rodrigo's car. Rodrigo has no idea that we are planning to give him a car next week. He is a strong man, but I won't be surprised if we see some tears of joy when we surprise Rodrigo with this gift. Not just because he needs a car, but because it means he will be able to travel to more villages, share the gospel with more people, encourage more young pastors, and accomplish so much more for the work of the Kingdom.
Can you help? Will you help? All I need is an email from you, pledging to send a gift on or before February 15, the Lord willing. I will show your email to Steve at Edmond Christian Church, and they will match it with a gift of an equal amount. Are you in? Will you please let us hear from you?
Thank you! God bless! Keep us in your prayers! Let us hear from you!
What a mighty God we serve!!
Love … Terry & Norma Hull
Whenever you are ready to send your gift, send it to Joshua One Ministries, P.O.Box 8464, Edmond, OK 73083. All gifts are tax deductible. Thank you!