TO PRE-REGISTER FOR CR4C JAN 2012, USE THE ONLINE FORM AT THE BOTTOM OF THIS PAGE.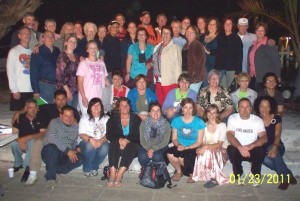 We are returning to Costa Rica in January for eight days of preaching, teaching, medical outreach, construction work and lots of sweet Christian fellowship. Do you want to come?
Dates: January 16-23, 2012
Cost: $1732 (covers everything: air, hotel, meals, ground transportation, projects, etc.)
First deadline: RIGHT NOW! $50 nonrefundable deposits for air travel are due on Monday (Oct. 24).
This will be our fifth annual Costa Rican venture. During 2008-2011, we have had a total of 53 individuals from 15 churches take the gospel to Costa Rica with us. Last year we had 39 people from 11 churches on our team. Is God calling you to join us this year?
Many of you have already told me that you are planning to join us again this year, and are just waiting for the details. Well, all the details are now available.
I am sorry I am running so late in putting this information together for you, and very sorry for the short notice on the deposit deadline. The last three months have been one of the most challenging times ever for Norma and me — Norma has had back surgery and a very slow recovery, and I have gone through a huge transition in my career. I'll tell you more about those things later.
Anyway, the details are available now. For those of you who have gone with us before, I can tell you that none of the major details have changed.
• Here is a four-page prospectus (pdf) with much more detailed information: CR4C-Jan2012-Prospectus.
• To sign up or to indicate your interest, please complete the short online form below. PLEASE COMPLETE THIS FORM RIGHT AWAY — even if you have already told me that you are planning to go.