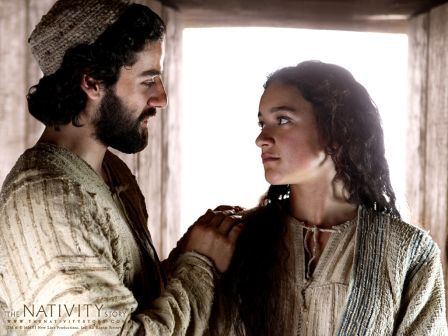 The Nativity Story, which tells the story of Mary and Joseph and by all accounts is faithful to the Biblical narrative, is getting mixed reviews. The movie (rated PG) opened on Friday and ranked fourth at the box office, earning $8 million in its first weekend. That's not bad, particularly as competition heats up for holiday movie-goers.
Among those giving Nativity thumbs-up reviews are the Chicago Tribune, Christianity Today, Hollywood Reporter, Boston Globe, Dallas Morning News, Houston Chronicle, and Denver Post.
I confess that when I see ads for a Bible-based or Christian-oriented film, I am usually less than enthused, because so many such movies are so poorly written, acted and produced. There are numerous exceptions (e.g., Chariots of Fire, The Apostle, Tender Mercies, Dead Man Walking, A Man for All Seasons, and The Passion of the Christ). But the list is much longer of films that suggest that the word "Christian" is synonymous with amateurish, simplistic, and naïve.
However, maybe The Nativity Story is better than that. It stars 16-year-old New Zealander Keisha Castle-Hughes, who earned an Oscar nomination for her outstanding work in Whale Rider. It is directed by Catherine Hardwicke, who directed Thirteen, another excellent (although radically different) film about a troubled teenage girl.
Chicago Tribune reviewer Bill Zwecker says "while the look, feel and direction [of Nativity]…are all strong, it is the superb casting choices that ultimately make this such a wonderful film." He describes Castle-Hughes as an "amazing young actress" who is "luminous as Mary." The screenplay provides a sometimes "grittier, uncomfortable version" of the story, which "adds even more heft to this special film."
Less impressed is Los Angeles Times reviewer Kenneth Turan, who describes the film as "a Story told with too much naiveté." The screenplay has "painfully sincere dialogue" and "gee-wilikers writing." Turan describes one moment that sounds like just the kind of cheesiness that I have grown to expect and disdain in Bible films:
When Jesus is finally born, the star the wise men have been following illuminates the manger like a massive searchlight at a big studio premiere. When Hollywood faces off against religion, you don't even have to ask which force will come out on top.
Chuck Colson says The Nativity Story is the first Bible movie released by a major Hollywood studio since The Ten Commandments 50 years ago (the films listed above and the others you are thinking of were independent productions). He writes:
If you don't want to wait another fifty years, then take your family, friends, and neighbors to see this film. … Revisiting Bethlehem in this way will remind us, as director Hardwicke says, of the 'overwhelming notion that God chose this manner of sending His Son. . . . God did not go to a king. He did not go to a palace. He went to humanity.'"
I find myself thinking that if Nativity rises above the usual Christian schlock, as it apparently does, we Christians should support the film, to send a message to Hollywood that we would like to see more good movies with Bible-based themes. Guess I'll go next weekend.