March 2012
In March 2012, a few of us associated with Joshua One Ministries will make an exciting journey to visit some very special friends of ours who live in the rainforest of southern Costa Rica. We are now forming our team for this exciting adventure to the Chirripó Mountains. We are limiting the size of our team to 10-12 people. Because the journey will be quite strenous, only those in top physical condition should consider joining us. Do you have an interest in being part of our team?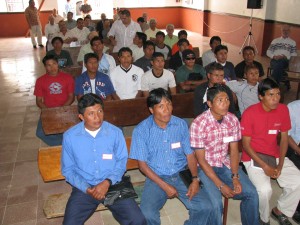 Approximately 12,000 Native Americans of the Cabécares tribe live in the Chirripó Mountains of south CR. The Cabécar lifestyle is very primitive. They have had very little interaction with the "outside world." One Costa Rican newspaper has called the Cabécar the "hidden people."
The Chirripó terrain is a rainforest. The economy is mostly self-subsistence and barter. Homes are grass huts in which people sleep on the ground. Polygamy is common. The language is Cabécar (Spanish is spoken by some but not all). The Cabécar people are mostly illiterate. As a matter of fact, the Cabécar had no written language until missionaries developed one for them in the 1970s.
Even in this remote place, the Lord is not without a witness. During our four previous visits to Costa Rica, we have formed friendships with some Cabécar Christians who have attended the annual Preaching and Teaching Convention we host each January in San José. We are familiar with seven churches in the Chirripó Mountains which have a combined membership of about 300 believers.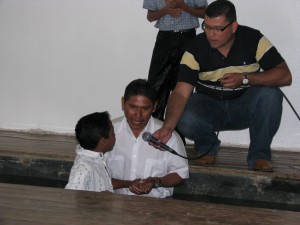 Next March, a group of us will make our very first journey to the Cabécar reserve to fellowship with our Chirripó friends in their native setting. We are extremely excited about this remarkable opportunity.
THE JOURNEY
The journey to the Chirripó Mountains will be strenuous. On Mar. 20, we will fly from Oklahoma CitytoSan José. We will spend the night in the capital city. The next morning we leave in rented vans for Quetzal, a small village south ofSan José, about a four-hour drive. From Quetzal, we will hike on foot for about four hours into the ChirripóMountains. On our backs we will carry our bed rolls, food and supplies for our four-night stay with the Cabécar brethren. We will sleep on the ground under open-air, thatched-roof structures called "ranchos."
During the four days we are in the Chirripó, we will fellowship with our Christian friends, visit their churches, and preach and teach God's Word. We are also exploring the possibility of a construction project and a health clinic.
For more details, please see: CR4C-Mar2012-Prospectus1. If you believe God may be calling you to be part of this outreach to the Chirripó people, please contact me, Terry Hull, at terryhull AT joshuaone DOT org.